PHOSPHATE GETS HEARING IN ARCADIA
Mosaic wants to rezone nearly 14,000 acres for mining
By GREG MARTIN
SUN CORESPONDENT
ARCADIA — Theresa Wheeler, who grew up on a cattle-and-citrus farm her grandparents homesteaded a century ago, says her son is now raising his own sons on that Pine Level farm.
Now, however, Wheeler fears Mosaic's plan to open a nearly 14,000-acre phosphate mine next door will rip the heart out of their family's rural-DeSoto heritage.
"The quiet place we've loved for generations will be destroyed," she told the DeSoto County Planning Commission at a public hearing for the mine June 6. "The drag lines with their flood lights, the trains running across the countryside, the trucks shifting through 10 to 12 gears, this will be going on 24 hours per day, seven days per week."
In a 3-2 vote, DeSoto County's Planning Commission approved a rezoning request from Mosaic last month. The recommendation will be presented to the county's Board of Commissioners from 6:30 p.m. until 10:30 p.m. Tuesday; and 9 a.m. until noon, and 2 p.m. until 7 p.m. Wednesday.
"This is an area where a coyote can be heard howling for miles," she added. "I can't imagine how this is going to affect my son and his neighbors."
Wheeler was one of scores of area residents who spoke passionately against Mosaic's proposal to have the county rezone the site from lowdensity agriculture (A-10) to phosphate mining. Some warned stormwaters in the flood-prone area could cause spills.
Some predicted property values will decline.
A few reminded the planning commission that Mosaic has been fined millions of dollars over pollution problems in the past.
While the public's opposition might seem overwhelming, much of the testimony was irrelevant, according to both county and Mosaic officials.
That's because the county adopted an ordinance earlier this year that mandated hearings on Mosaic's proposed mine be considered "quasi-judicial." In such hearings, board members are to give greater weight to "substantial and competent" testimony and evidence. That means testimony from qualified experts.
Also, the rezoning would merely authorize phosphate mining as a permissible land use. Mosaic would still need to get two additional permits approved before it could begin mining. Those permits, for a master plan and an operating permit, would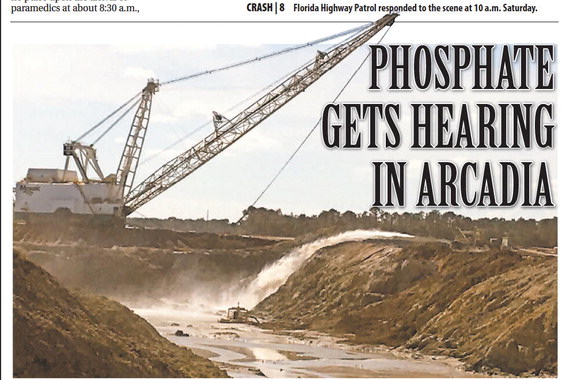 A large dragline in the distance beyond an open and active Mosaic phosphate mine in Hardee County in December of 2017. The company provided the
Sun a tour of the site, and is planning to expand its mining operations south further into Hardee County and DeSoto County.
SUN FILE PHOTOS BY ANDREA PRAEGITZER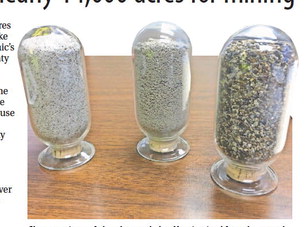 Glass containers of phosphate rock that Mosaic mined from the ground in the region's Bone Valley. It is used during the fertilizer manufacturing process.
The rest of the article is supposed to be here, but an error prevented it from loading - sorry about that!